The Key West Food & Wine Festival Would Like to Invite You to the Party. Tickets Go on Sale This Weekend Sunday November 1st, 2015.
October 29, 2015 in Vacations by cipcipTrip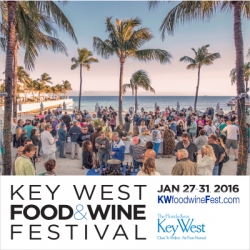 The Key West Food and Wine Festival is a series of wine and food themed events showcasing a diverse range of wines and inventive cuisine, hosted by their passionate creators at iconic island locations.
The seventh annual Key West Food & Wine Festival will be January 27-January 31, 2016.
Over 40 events include waterfront sunset tastings, winemaker and chef collaborations and local funky events that present an authentic taste of Key West.
The festival attracts thousands of culinary explorers from around the country who descend on the tropical island to escape the winter and delight their senses.
Voted best food and wine festivals in the country by Travel Channel.
"Our past six years have been a hit and we can't wait until our 2016 festival," says Event Director Mark Certonio. Food and wine enthusiasts from across the country will join locals to enjoy Key West's freshest seafood, unique local ingredients, gorgeous weather, and premium wines from around the world.
For more details on all Festival events, how to become a sponsor, and our plans for giving back to local non-profit organizations, visit www.kwfoodwinefest.com. Be sure to sign up for the newsletter, Juiced, download our app, like our Facebook page and follow us on Twitter to stay up-to-date as events are added and schedules are finalized.
TPConnects' First Airline Customer Now Live with IATA NDC with the Latest Publication of the NDC Standard.