Kosherica Kosher Cruising and Passover Travel Around the World.
October 22, 2015 in Cruises by cipcipTrip
The Ultimate Way to Travel Kosher Elegantly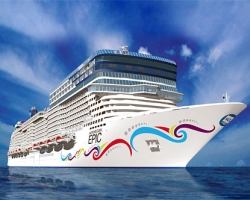 Reserve now at www.Kosherica.com for your 2016 winter, spring and summer Deluxe Cruises to Alaska, Caribbean Resorts, Canary Islands, Greek Isles, Panama, Spain & Italy, St. Petersburg and more.
There is simply no more elegant, convenient and exciting way to travel the world while keeping to religious tradition than cruising aboard one of the global giant luxury liners, on tours operated by Kosherica.
You'll be treated to glatt dining at the highest standards of excellence while visiting the most exotic corners of the globe: From Alaska and the Caribbean to the Mediterranean and Baltic seas. World-class Jewish scholars and tour guides accompany you the entire trip.
It's the finest form, intellectually and culturally, of high-end tourism.
The best part of it all is that your hotel room (aboard the world's largest and most palatial cruise ships) travels with you. No packing and unpacking for a week or more!
Kosherica works with the five-star Norwegian and Royal Cruise Lines to ensure that your every need is catered to: From daily prayer minyanim and shiurim to theatre performances, scintillating lectures, spa and fitness regimes, day trips on shore with quality Jewish content, and dozens of other amazing leisure options.
The kosher cuisine is created by a team of highly respected and accomplished chefs, supervised by an experienced team of expert mashgichim – making for an exceptional culinary experience. There are enormous daily salad, fruit, breakfast and dessert buffets, alongside glatt meat main courses. A sophisticated kosher wine list with labels from around world will add to your enjoyment. Healthy heart and special diet (gluten-free, sugar-free, etc.) options are available as well.
It's always best to book early for these exciting cruises – which means right now for trips leaving in December of this year, as well as spring and summer 2016.
Go to www.Kosherica.com for more details.