Casa Dorada Los Cabos Unveils Newly Redesigned 12 Tribes Restaurant.
November 29, 2016 in Restaurants by cipcipTrip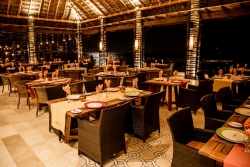 Casa Dorada Los Cabos Resort & Spa, a five-star beachfront resort in Cabo San Lucas, Mexico is excited to announce the opening of their newly renovated restaurant. 12 Tribes is the resort's Signature Restaurant under the helm of Executive Chef Francisco Aguirre.
12 Tribes now seats a total of 158 people both in the main dining area under a large renovated palapa and outside on the spacious terrace and lounge. The remodeling included brand new furniture in all areas and new umbrellas to enhance the comfortable daytime atmosphere on the terrace. Walls have been decorated with wood and locally sourced stone, while the surrounding columns were concealed with wooden decorative panels, creating an ambiance that is warm and inviting. The new lighting has also added to the coziness of the entire space creating a sanctuary for every dining experience, whether it's a romantic dinner for two or a wedding celebration for 100.
Though the restaurant space has seen some changes, the stunning ocean views and delicious food remain constant. Sink your teeth into the famed Drunken Octopus or other fresh seafood and fish specialties, or enjoy the many traditional and contemporary Mexican delicacies. Nightly live music and theme nights will certainly add to the allure of any dining experience at the renovated 12 Tribes Restaurant.
This most recent renovation project comes as the last one in a series of improvements that have been carried out throughout the resort this year. In addition to the remodeling of Maydan Restaurant, all 188 suites have been redecorated, public areas have also undergone refurbishment including new chaises, tables and umbrellas at the Beach Club, as well as new furniture in the pool area such as hammocks, swings, and loungers. Guests will now be able to enjoy the comfort of brand new elevators and reduce their carbon footprint while staying at the resort thanks to solar water heating systems that were installed for heating the swimming pools and part of the resort's general water supply.
As Los Cabos continues to grow as a top luxury vacation destination, Casa Dorada is keeping up the pace making sure guests are continuously surprised and delighted with its evolution and facilities.
More information on www.casadorada.com